Hawaii Relocation & Real Estate for Sale
Property Search
We specialize in all the Islands in Hawaii, presenting the best Hawaii real estate. Listing updated every day. If you are searching for a home in Hawaii, you have come to the right place. Whether buying or selling on any Island, we are at your service. You can use our search technology to find all Oahu real estate available for sale in Hawaii.


Buy a Home
With expertise in todays marketing technologies, "Hawaii Relocation" offers buyers and sellers highest exposure . Hawaii Relocation can help you find your dream home.
Sell a Home
Selling your home is one of the most important decisions you will make in your life. How much is it REALLY worth? How long will it take to sell? How do you handle buyers making undesirable offers? "Hawaii Relocation" offers buyers and sellers maximum exposure combined with a personal touch. Hawaii Relocation can help you sell your finest real estate.
Home Financing
Get the home of your dreams today! Finding the best mortgage rates on a home purchase is easy by submitting your information online here at Hawaii Mortgage Online. Ask us about 100% financing on stated loans with interest only options. No Credit? Bad Credit? No problem! We have a loan program that is sure to satisfy your needs. Use our equity loan to reimburse the down payment you made when you purchased your Honolulu Real Estate.
THE ISLANDS OF HAWAII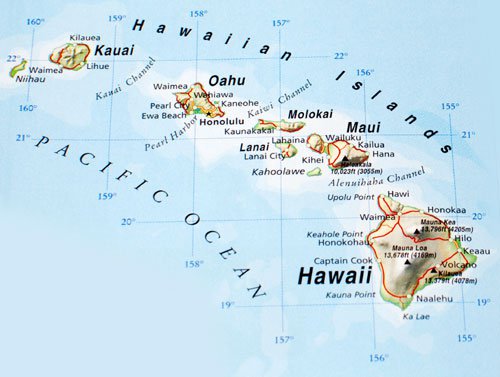 Aloha and welcome to a place that can find your dream home for Hawaii Real Estate, or bring you just the information you need. Use the navigation tools to pick an island, a category or an interesting feature article.
OAHU
Oahu is where visitors come when they want it all: Aloha spirit and an Aloha Tower. A "Diamond" Head and a "Pearl" Harbor." It's all on Oahu, "The Gathering Place." Oahu is the third largest island in the Hawaiian chain.
KAUAI
Spectacular natural panoramas and lush vegetation, some call Kaua'i Hawaii's most scenic island. Although it is the oldest among the Hawaiian islands (scientists estimate it to be 5.1 million years old), Kaua'i has only become more beautiful with age. Anchoring the western part of the major Hawaiian islands, circular-shaped Kaua'i is the fourth.
MAUI "THE VALLEY ISLE"
Beautiful sunrises and sweet symphony sounds. Idyllic rain forests and lavish wine festivals. Sun-kissed beaches and big-time sporting events. Maui offers visitors the ideal mix of nature and sophistication—the best of all worlds. Shaped somewhat like the bust of a statue, Maui is the state's second-largest island—727 square miles—and third most populated, with.
HAWAII
Only 401,000 years old, the island of Hawai'i is the youngest of the Hawaiian isles. It is also, by far, the largest island in the Hawaiian archipelago; its 4,028 square miles is more than twice the size of all the other major islands combined. The "Big Island," in fact, is still growing. Kilauea volcano has been spewing molten lava since January 1, 1983.